All Swept Up Chimney Services
Chimney Sweeping and Repairs in Carmel Indiana
All Swept Up Chimney Services specializes in chimney sweeping, cleaning, inspection, and repair in Carmel, Indiana and the surrounding areas. Some more of our services include: new installation on wood stoves and fireplaces, gas log sales, service and repair, animal removal, chase covers, custom caps, and more. We are a family owned and operated business born out of 34 years of experience.
Chimney Services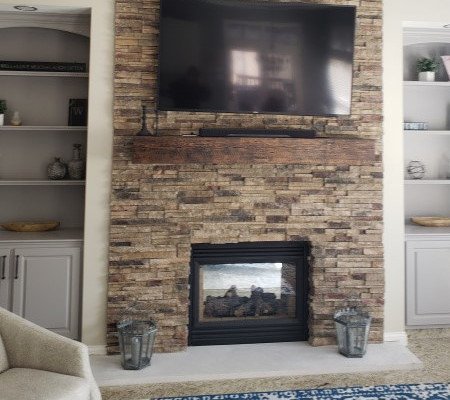 Chimney Sweeping
We provide extremely thorough chimney sweeping services, unmatched in terms of safety and quality. Regardless of the size of the job or the toughness of the soot, our chimney cleaning services will ensure that your chimney and fireplace are as clean as the day they were installed. Give your chimney the best sweep it has ever had.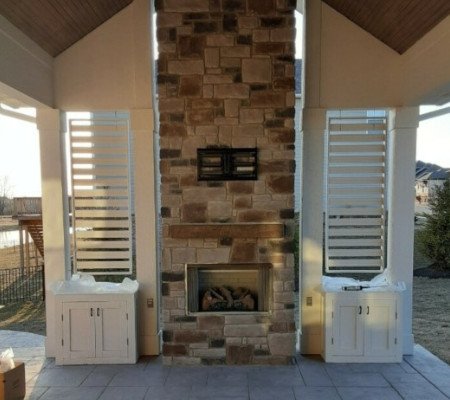 Chimney Installations
Our trained professionals can provide you with reliable chimney installations. In addition to brick, other materials we work with include rock, cultured stone, tile and marble. Our master masons can build chimneys and hearths, replace missing bricks and mortar, perform color matching, tuck pointing, and thorough chimney cleaning. We strongly recommend using our durable chimney installation services, as it will save you considerable money in the long run.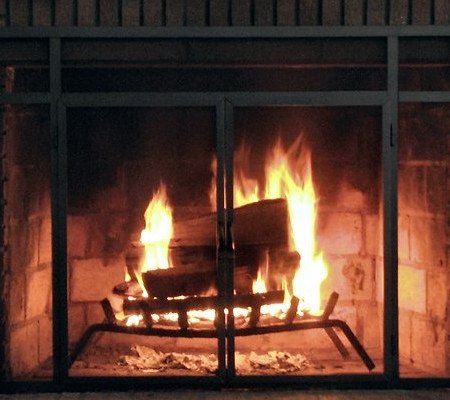 Chimney Inspections
Are you about to purchase a new home and would like the chimney inspected before closing. Give us a call to look at the chimney and check for any potential problems so that you can repair them before they become bigger problems. It's always a good idea to get the parts of your house that involve heating inspected and cleaned every year. Chimney inspections are an important aspect of home ownership and maintenance. We provide comprehensive chimney inspection services. We use state-of-the-art equipment for all inspections, ensuring that all systems are up to code. We refer to the national and local fire/chimney agencies for our stringent standards of inspection and cleaning, and all of our technicians are certified, honest, and experienced.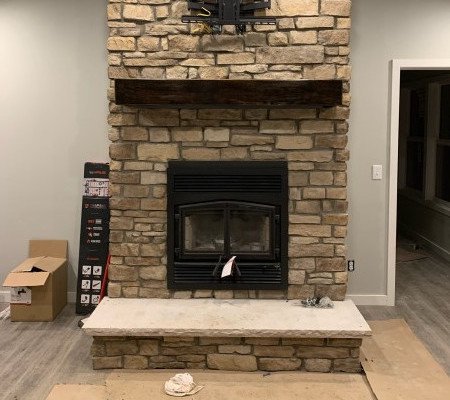 Chimney Repairs
We have been specializing in chimney repairs for almost four decades. Chimney repairs can be complicated and delicate, but we've successfully repaired countless chimneys. Unfortunately, if problems are left too long, your chimney could lead to very serious problems, including a fire. Don't waste your time worrying about your chimney problems. Have us fix it to save you money and give you peace of mind. We perform repair, historical preservation and construction services for chimneys, fireplaces and related structures. We can provide custom-built fireplaces, mantels and hearths, along with chimney leak solution packages and numerous other amenities. We can also conduct repairs and waterproofing, inspections, and our technicians are all certified with substantial training.
My experiences with All Swept Up have been great! Responsive, nice, conscientious, knowledgeable and prompt! I highly recommend them!
So enjoying my refurbished fireplace today! Your guys were great. They struck me as both honest and hardworking — a winning combination. Thank you so much!
Excellent company. I could tell that the techs have been well trained in their customer service and skills. Did not try to upsell anything. Solved my problem for a fair price. I will definitely use them again if needed.
Chimney Sweeping Tips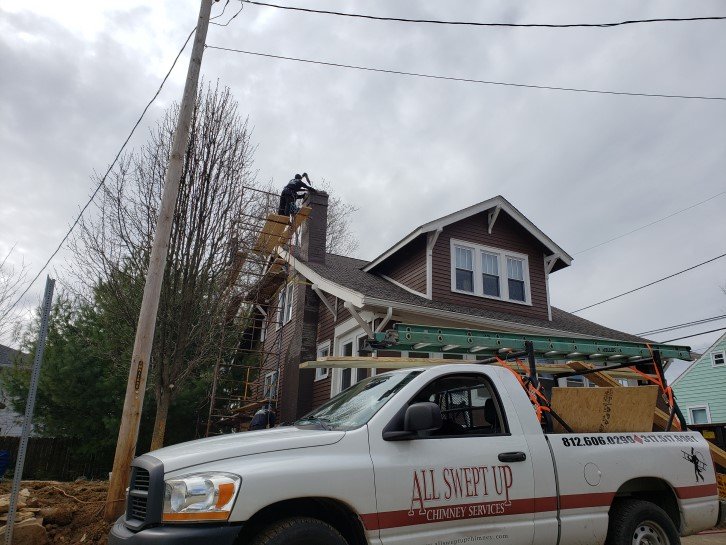 Many people have no idea that chimneys should be swept. In case you have not heard the term chimney sweeping, it means to have your chimney cleaned to remove debris and other materials. If the chimney is not cleaned regularly, creosote can build up over months and years to become a rather serious issue. Creosote is a tacky and smelly substance that is created during the normal operation of your chimney. Over time, creosote can very well lead to a fire. In fact, based on some estimates, creosote is the culprit for one in four house fires.
So, your chimney should be swept regularly, but who should do it? You are certainly capable of cleaning your own chimney. There are a few risks if you plan to clean the chimney yourself, such as falling off a roof, scattering dust and creosote throughout your house, etc. A chimney sweep company is usually not very expensive and could be very educational if you find the right one. You will also need to purchase or borrow some tools to get the job done correctly.
First, you should put some plastic or some kind of barrier to protect the floor around your fireplace. Tape some thick plastic sheeting over the fireplace to prevent debris from coming into the room. If you do not seal the fireplace completely with plastic, you could easily have some neighboring rooms and furniture with a light dust coating. At this point, it probably makes sense to start thinking about how to protect yourself. Putting on goggles and a dust mask before continuing is a great idea. Move on to cleaning the firebox by removing remaining wood and ash. Open the damper, if you have one, so you can access the chimney from the roof.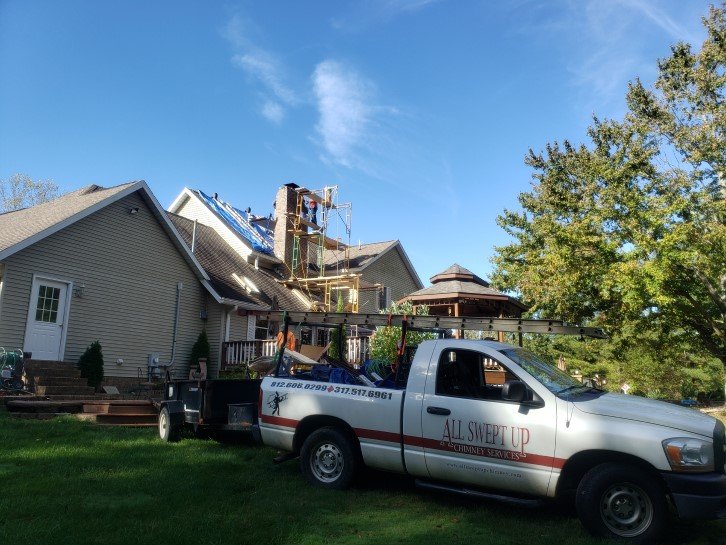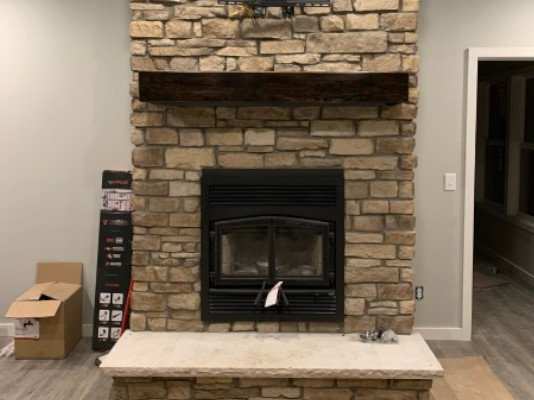 Now, it is time to pull out the ladder and get on the roof. Another warning should be given that doing anything on a roof is more risky than many other DIY tasks. While your roof and chimney might not seem that high, falls happen more often than you think. Remove the hardware, such as an animal guard, from the top of the chimney if there is any. Once the chimney hardware is removed, use the largest brush, in terms of diameter, to begin sweeping from the top down to the smoke shelf. This area is flat and located behind the damper just as show in the picture. Reattach the chimney hardware that you removed making sure that it is secure so that it does not come off during heavy winds. Climb down the ladder and head back inside your house.
After waiting for 30 minutes, the dust that was scattered while you were sweeping the flue will have settled. Make sure that all windows and doors to the outside are closed and will not be opened during this last step or you could have a lot of dusting to do around the house. Remove a small portion of the plastic that was taped over the firebox so that you can put a chimney brush in. Use the smallest diameter chimney brush you have to sweep up into the chimney as far as possible. When you are done sweeping, reattach the small portion of taped plastic you removed before sweeping, which should allow the unsettled dust to fall to the bottom of the firebox. After waiting for some time, you can now carefully remove the taped plastic from the fireplace. Once removed, you can start to vacuum up the rest of the debris and dust in the firebox.
After following all of the above steps, you should have successfully cleaned your chimney. Remember to sweep your chimney regularly and to have the chimney inspected every few years by a professional.